We are a New Zealand owned and operated organisation based in Cambridge in the central North Island. We started out in a modest garage in 2005, where the founder designed and built the original Rolaworx® drawer, to fit into the back of a wellside ute. This drawer was built on the principle of simple, but durable design, whilst pushing the boundaries of the tooling used to manufacture the components. Some of the original Rolaworx drawers are still in use today, having been transferred across several utes. The Rolaworx drawer unit, to this day, remains the best solution to the pain of reaching and climbing into the back of utes.
As leaders in the industry, we have provided needed innovations to the industry including Gullwing Service Bodies, Rolaworx Drawers, and Uteworx Flat Decks. Our product range is continually growing with customer demand.
Camco has the capacity and experience to supply specialist fitouts for many different industries. Time means money in business, and Camco's systems are calculated to save time and create efficiencies. It has been estimated that a Rolaworx drawer system could save 15 minutes per day. This adds up to over 62 hours a year over a 5 day week. Multiply that by your workers average hourly wage and see the savings! 
Camco understands the safety of vehicle operators are a top priority for businesses today. We design and develop our products around workplace safety, including safer access to tools, lighter fitouts, and crash tested solutions. These examples are just a few examples of the health and safety benefits our products offer:
We are New Zealand owned and operated

Designed and manufactured in NZ for NZ Conditions – we live in NZ, so we understand NZ's environment – rough terrain, high rainfall areas, confined spaces and isolated communities.

We come to you! We have sales team that travel the country in demonstration vehicles.

Best Quality – with in-house design and manufacture, through to stringent quality

assurance processes, you can be assured we'll only provide you with the best

product!

Best Customer Retention – more than 80% of our business is repeat, giving

you the confidence that we will deliver on our promises and develop loyal

relationships.

We focus on providing you with the best value for money – whether that be a

more efficient fitout, or a product that will outlast 2-3 vehicle lives, we strive to

drive down the total cost of ownership, maintenance cost and fuel consumption

through lighter products.

Workplace safety – we design and develop our products around workplace safety.

Safer access to tools, lighter fitouts, leading to lighter compliant vehicles, and

crash tested solutions are just a few examples.

Lifetime Warranty – with a warranty to the initial purchaser that spans the lifetime

of the original vehicle, you have assurance that your investment will last the

distance.
OUR MISSION:
TO PROVIDE OUR CUSTOMERS WITH HIGH QUALITY VEHICLE FITOUTS THAT ENHANCE SAFETY AND MAXIMISE PRODUCTIVITY
OUR VISION:
WE WILL BE NEW ZEALAND'S PREMIUM COMMERCIAL VEHICLE FITOUT COMPANY INTRODUCING NEEDED INNOVATIONS TO THE INDUSTRY.
OUR VALUES
SAFETY FIRST: We endeavour to design safety systems for our customers and through this process we will develop within our supply chain a safety-first culture.
TEAM SPIRIT: Desire to work as a team with a common goal to achieve our company vision. This is driven by a positive attitude, a willingness to learn and a desire to succeed together.
INTEGRITY: We uphold ourselves to the highest standard of ethical attributes. We work in the community, with the community, for the community and are open and transparent about how we do so.
HONESTY: We communicate with the best intentions, both internally and externally. We respect one another's individual viewpoints and work together to achieve a mutually beneficial outcome.
INNOVATION: To stay at the forefront of the market, we continually develop and redevelop our creative solutions, introducing advanced new products.
RELIABILITY: Quality is compromised for nothing in our fit out systems to ensure our customers have the most dependable and hardworking storage solutions on the market, delivered by the most hardworking and dependable team.
HEALTH & SAFETY BENEFITS:
Maximise your payload!
Our Gullwing products are constructed from aluminium to create a lightweight fitout and help get your vehicles legally on the road.
Reduces Back Strain!
Rolaworx Drawers and Roll-a-Tables bring the cargo out to the operator, eliminating the need to crawl into the back of vehicles to reach your tools and equipment. As one of our customers commented "I haven't had an employee having a sick day for a sore back since I fitted your drawers through my fleet."
Increase your vehicles GVM!
Working in an industry where light commercial vehicles are used as service vehicles, we often see how overloaded they become. We work with suspension manufacturers to provide GVM Upgrades to light commercial vehicles that can increase the payload by up to 300kg depending on the vehicles make and model.
Easy loading and unloading!
Camco's range of tipper decks, cranes and tail lift fitouts were developed to create an easy way to load and unload heavy items while onsite, without risking back injury to the operator.
Organised storage space!
Gullwing Service Bodies and Toolboxes create organised storage spaces with everything at arms reach, reducing the need to crawl or reach into your utes.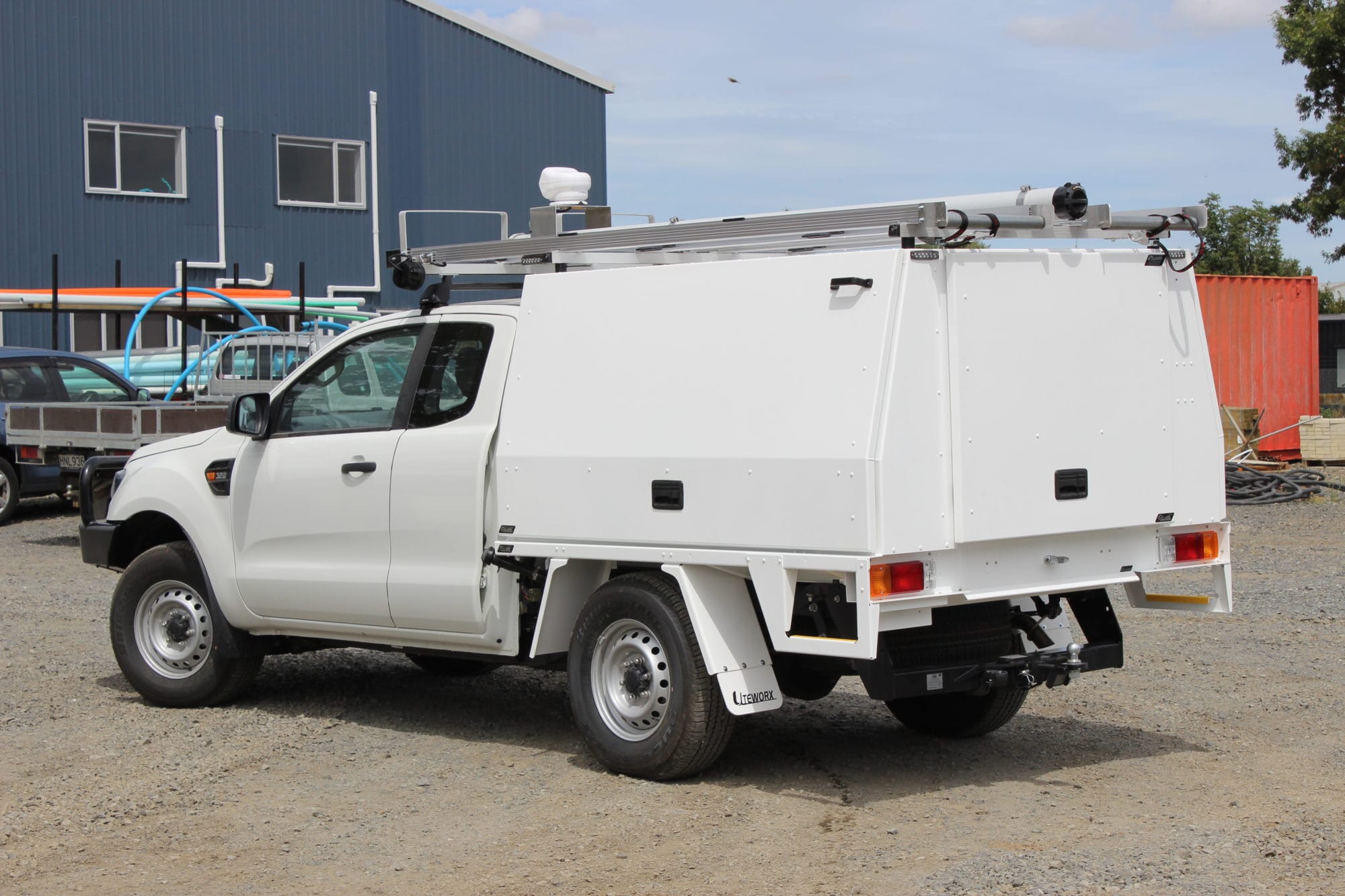 3-Point Access System
Camco offers a three-point access system (TPAS) for added safety when tying on ladders. The underdeck steps are large enough to fit 2 feet, while the single handle on the Gullwing door leaves one hand free to secure loads.