The Plumbers fitout package is built to suit the need of tradies all over NZ.
We've used one of our most popular van drawers – the mid split 50/50 drawer, along with a couple of our well-loved Versi shelving kits fitted either side of the rear of the van.
What's Included?
Mid-Van Split Drawer with a shelf above

2 x Versi Shelving Units – 1.0m Long, 5 Levels of Shelves
Pricing:
Only $3999 + GST
Under the government's recent amendment to the low-value asset write-off laws for the 2020/21 financial year, you can write this purchase off immediately. See here for further details.
Vehicles:
Available to suit Toyota Hiace, Ford Transit, Hyundai iLoad and LDV G10.
Send us an enquiry if you'd like to fit out a different vehicle.
The 50/50 split drawer fits between the side doors of the van, and consists of 2 shorter drawers, back to back, which slide out either side door. This drawer is ideal for allowing access to your tools in confined spaces like driveways. We've put a shelf above the drawer, with an alloy lip around the edges to prevent any items falling off the shelf.
While the drawer provides storage for larger tools, the shelving kits at the rear have 5 levels of shelving which provide organised storage for smaller fittings etc. The full height of the van at the rear is maintained, providing you with a space to transport large pieces of equipment such as washing machines when required.
Manufactured at our workshop in Cambridge, we want to assure you that you'll be getting a taste of Camco's signature quality.  
As part of our commitment to you, we've backed up our fitout with a lifetime warranty promise.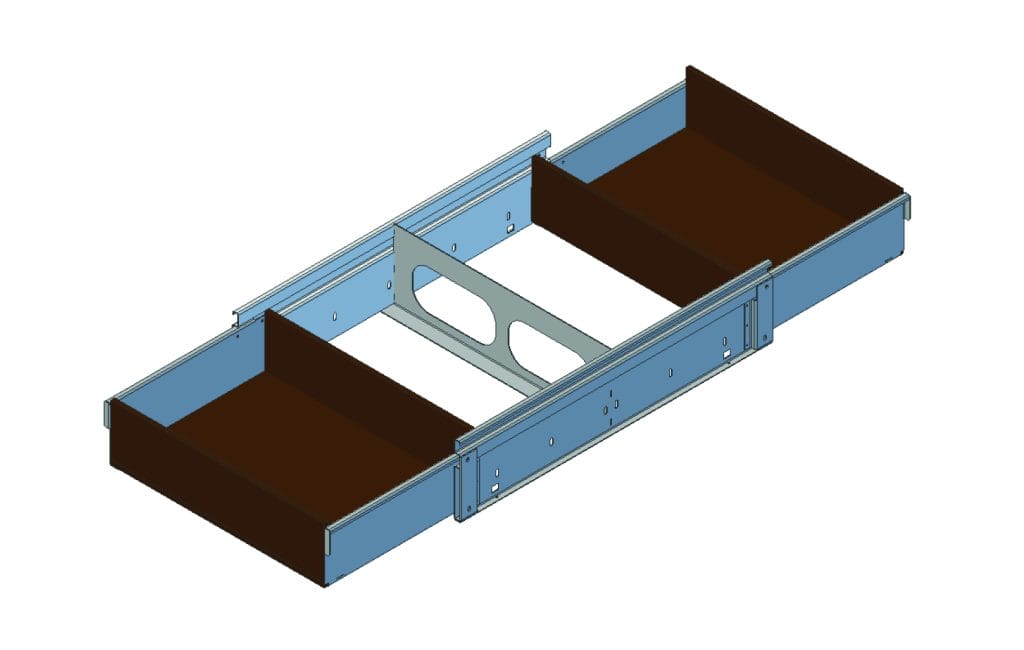 Mid Van Split Drawer:
Hyundai iLoad: 1480L x 700W

Ford Transit: 1640L x 900W

Hiace ZL: 1480L x 900W

Hiace ZR: 1640L x 900W

LDV G10: 1640L x 700W
How do I install my fitout?
All of our drawers and shelving are dispatched with fitting kits and fitting instructions. 
The fitting kits for the shelving are generic and may require some engineering to fit your specific van.
See the video here for a step-by-step drawer fitting instructional.
Terms of Trade:
Our normal terms and conditions of trade apply – see the link at the bottom of the page to view them.

Camco reserves all rights to change lead times as requires to meet demand. However we will make all possible efforts to maintain the advertised lead time.

All pricing is valid for a limited time only.
Keen to get your fitout underway?
Send us an email sales@rolaworx.com or phone 0800 663 500 to get yours underway!
Or contact one of the friendly team below.
Carl Blackman | Business Development
021 221 5904 | carl@rolaworx.com
Gavin Harper | Business Relationship Manager – Southern
021 412 453 | gavin@rolaworx.com                                     
Nick Trott | Business Relationship Manager – Northern
021 624 223 | nick@rolaworx.com                                                           
Lori Blackman | Sales Coordinator
021 919 487 | lori@rolaworx.com