Here at Camco, we offer a full end to end solution for all ute and van fitouts. Whether it be 5 or 500 vehicles, we've got the capabilities to make sure your fitouts flow smoothly.
How do we streamline the process of fitting out your new work vehicles? We coordinate everything for you – from communications between your lease or finance company, to coordinating schedules with car dealers, car transporters, signwriters, and GPS installers (and more).
What is the benefit for you? Your vehicle makes one stop (Camco), where everything from service body to signwriting and GPS gets installed, meaning your vehicle turns up right ready to head into the field!
Each car company allows delivery to one fleet fitout company before delivering to the dealership for free.
The traditional way that vehicle fitouts are completed involves the fitout company completing the drawer/service body build, which is then delivered to the customer, for them to arrange the rest on site – signage, bullbars, suspension, towbars, gps etc.
This means that it can be another month from delivery of the vehicle to when it is able to be used in the field.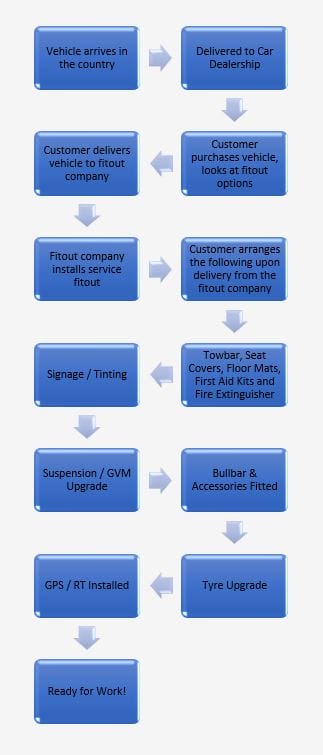 The Camco Way is designed to make it easier for you!
We coordinate an end-to-end fitout solution – from service fitout to signage, GPS, tyres, bullbars – and the rest. Your receive a vehicle right ready to get to work – all you need to do is put your tools in it!
Vehicle Arrives at Camco:
We do it All!
Vehicle Fitout

Bullbar & Accessories

Suspension / GVM Upgrades

Signage / Tinting

GPS / RT Installation

Tyre Upgrade

Seat Covers & Floor Mats

First Aid Kit & Fire Extinguisher

Towbar
Vehicle Delivered and Ready for Work!